By: Daniel Nardini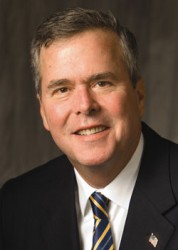 And this man may run for president in 2016? In his newly published book, Immigration Wars: Forging an American Solution, Jeb Bush is arguing that while undocumented should be given legal residency if they qualify, they should not get U.S. citizenship. The former governor of Florida seems to have gone to the more radical right of late. Here is what I do not understand. Jeb Bush, who is married to a former Mexican national, should understand better than most how the U.S. immigration works, or rather does not work, for so many U.S. citizens trying to bring in their spouses and/or foreign-born children as well as for all those trying to apply to legally come into the United States. One of the reasons why so many have tried to come into the United States illegally is because they cannot come into this country legally. The system is too rigid, bureaucratic and unworkable.
According to Jeb Bush, those who qualify to become legal should pay penalty taxes or do community service, learn English, and stay out of trouble with the law. However, Bush states that those who came illegally should have different color-coded residency cards to distinguish them from those immigrants who came legally, and that U.S. citizenship should not be accessible for those who came to the United States illegally in the first place. If these former undocumented want U.S. citizenship, they should go back to their own countries of origin and wait. These last two parts are as totally unrealistic as can be imaginable. To give former undocumented different color-coded residency cards would perpetuate their status as "illegals." They can suffer all kinds of discrimination based on this apartheid-type of identification card system.
What makes no sense is denying the undocumented the chance of becoming Americans at all. I am not saying it should be made easy. However, taking away the chance is against the U.S. Constitution and would put them back to square one. Many have been in this country for ten or even twenty years, so does it make sense to take away the one chance they might have to become a part of this country? Going to the end of the line for becoming legal residents (seven to ten years), and then eventually becoming U.S. citizens (ten to 15 years), is in of itself a means to test their loyalty to this country if they really want to go the extra mile. To deny them any chance of becoming a part of this country at all is just as much pulling the rug from under them as simply seizing them in the middle of the night and throwing them out of this country. I can only hope that Jeb Bush never even remotely becomes president come 2016.