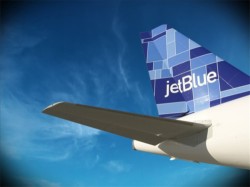 JetBlue Airways is pleased to announce its intention to launch new daily nonstop service from Chicago's O'Hare to San Juan. JetBlue's third destination from the Windy City is scheduled to begin service on November 20, 2013. Flights are expected to be out for sale soon. The announcement was made Monday, coinciding with the airline's affirmation of its commitment to growth on the Island with the recent privatization of San Juan's Airport. "As the largest carrier in Puerto Rico, we are very pleased to connect the sizable Puerto Rican population that calls Chicago home with convenient service to visit their friends and family on the Island," said JetBlue's President and CEO, Dave Barger.
"This announcement represents a big step for Puerto Rico as a tourism destination. With this new route we reassure the priority that air access has for our administration. It fills me with pride to be a part of this new era and that Jet Blue continues to believe in the potential of our Island as a destination," stated the Executive Director of the Puerto Rico Tourism Company, Ingrid Rivera Rocafort.
JetBlue's flights between Chicago and San Juan will be operated with its comfortable Airbus A320 fleet and award-winning service featuring convenient, assigned seating; a first-checked bag free (a); complimentary and unlimited name brand snacks and drinks; comfy leather seats; free first-run movies on seatback televisions (b); and more legroom than any other carrier in coach (c).
"This is great news for the Puerto Rican community and all of Chicago. I am proud that so many Chicagoans will have an additional option to visit their families, and I am equally happy that many Puerto Ricans will come to Chicago for pleasure or business," said Chicago 31st Ward Alderman and Vice Mayor Ray Suarez. For additional information on JetBlue Airways, visit www.jetblue.com/promise or www.jetblue.com. You can also call 1-800-538-2583 or TTY/TDD 1-800-336-5530.