Por: Carolina Cruz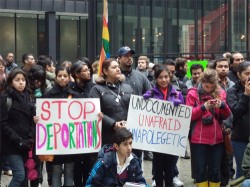 Decenas de inmigrantes indocumentados y aliados de todo Chicago se reunieron el 10 de marzo en la Plaza Federal en el corazón de la ciudad para hablar sobre sus experiencias y presionar por una reforma migratoria integral.
Como parte del mes Nacional Saliendo de las Sombras (National Coming Out of the Shadows month) una serie de eventos se planifican alrededor de la nación. En Chicago, la gente de todos los orígenes y razas se unieron y marcharon desde el Parque Union a la manifestación que se llevará a cabo en el centro.
Estreberto Popoca llegó a la manifestación para que ya no "haya más deportaciones y haya igualdad de trato para todos los que viven en este país. Estamos aquí con nuestros hijos y queremos una reforma migratoria que respete a todos ", dijo el hombre de 52 años de edad, mientras sostenía un cartel.
Otros padres, como Eliza Mateos apoyo estas actividades porque cree que "no sólo me beneficio si pasa una reforma migratoria este año, pero también mis hijos, porque ellos dependen de mí", dijo Mateos con su pequeño hijo a su lado. Más importante aún, si esta ley se convierte en una realidad "finalmente contaríamos en los Estados Unidos", dijo la mujer de 36 años de edad.
Jorge Mena, de 25 años, es miembro del grupo pro-inmigrante de la Liga de Justicia de Jóvenes. Dijo que después de la manifestación, su trabajo seguirá, consiste en trabajar en varias escuelas secundarias con la juventud que se sienten solos esto es para demostrarles que no están solos en esta situación.
"Nuestros padres no tienen que pedir disculpas por habernos traído a este país cuando todo el mundo que nos rodea está diciendo "bueno ustedes están bien, pero sus padres son los culpables". Estamos cansados ​​de eso y no vamos a dejar que la gente culpe a nuestros padres ", él dijo.
Uno de los temas mayores de discusión, cuando se trata de debates sobre la inmigración es que durante la presente administración más de 1.500.000 inmigrantes han sido deportados, de acuerdo con los informes publicados a principios de este año. "Este año más que nunca estamos viendo tantas deportaciones que esto se convierte en un enfoque tan grande y queremos asegurar que las personas conozcan sus derechos. Vamos a asegurarnos de que podamos ayudar asegurando que las personas no sean deportados", dijo Mena. Para ver más acerca de lo que sucedió en la manifestación en la Plaza Federal, visite el siguiente enlace: http://www.youtube.com/watch?v=yYzBDNM3crY