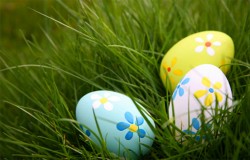 The Chicago Park District hops to it this spring by hosting dozens of egg hunts, including one for dogs and another with flashlights, through March 30th at citywide parks. Most events will feature treats, prizes, face painting, arts and crafts plus photo opportunities with the bunny. Some activities may require pre-registration due to limited space. Many programs are admission free or have nominal entrance fees. Participants should call the individual parks for additional information.
Bunny Holiday Festival
Thursday, March 28
4 – 6 p.m.
Altgeld Park, 515 S. Washtenaw Ave., 312-746-5001
Admission $2; recommended for ages 5-11
Lunch with the Bunny
Thursday, March 28
11:30 a.m. – 2:30 p.m.
Hale Park, 6258 W. 62nd St., 773-229-1032
Admission $12 for children includes activities and lunch, $6 for adults
Egg Hunt
Friday, March 29
4 – 6 p.m.
Taylor-Lauridsen Playground Park, 704 W. 42nd St., 312-747-6729
Admission free; recommended for ages 3-12
Egg Hunt
Saturday, March 30
10 a.m. – 1 p.m.
Wicker Park, 1425 N. Damen Ave., 312-742-7553
Admission free; recommended for all ages
Admission free; recommended for ages 4 and under.
For a complete list of activities, visit www.chicagoparkdistrict.com. Or call, 312-742-7529.