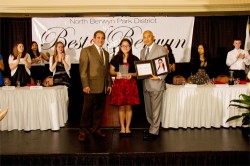 Las solicitudes para el aniversario del 13o. año "Lo Mejor de Berwyn" se distribuyeron en las escuelas de Berwyn, organizaciones recreativas y agencias. El Programa de Reconocimiento al mejor Ciudadano Joven de Berwyn es una búsqueda de los mejores estudiantes de 8º. Grado en la ciudad de Berwyn. Es un programa anual patrocinado por el Distrito de Parques de North Berwyn para distinguir a los adolescentes que han enfocado su atención en la familia, los estudios y en mejorar su comunidad.
El proceso inicial consiste de estudiantes que han sido nominados a través de solicitudes y cartas de recomendación enviadas al Distrito Escolar 98 del Norte de Berwyn, Distrito Escolar Elemental 100, la Biblioteca de Berwyn, Pav YMCA, Escuela Sn. Leonardo, Escuela Sn. Odilio, Exploradores Policiales, Distrito de Parques de Berwyn y el Departamento de Recreación de Berwyn. Las solicitudes deben presentarse el lunes 25 de marzo.
Beginning April 1st, the judges compiled of community leaders, teachers and public officials have the difficult task of sorting through the applications and interviewing the candidates to determine the person who best exemplifies the criteria for this program. The candidates and winner will then be invited, along with their family members, to attend the "Best of Berwyn" banquet held this year on May 1st at Skylite West Banquets to celebrate their nomination.
A partir del 1 de abril, los jueces compuestos por líderes de la comunidad, maestros y funcionarios públicos tienen la difícil tarea de escoger entre las solicitudes y entrevistar a los candidatos para determinar la persona que mejor ejemplifica los criterios de este programa. Los candidatos y el ganador serán invitados, junto con sus familias a asistir al banquete Lo Mejor de Berwyn que se llevará a cabo este año el 1 de mayo en Skylite West Banquets para celebrar la nominación.