By: Ashmar Mandou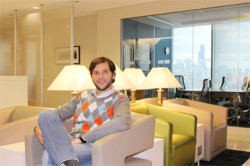 Jose Gonzalez was in dire need of a practical workspace.
"I am married and I have a young daughter, so to work from home is extremely hard. I cannot work through all-day yelling," laughed Gonzalez. As manager for the Midwest and East Coast regions for a multi national telecommunications company, Gonzalez needed a workspace to be able to connect to his growing clientele in Chicago. "Our company is like an operator the way AT&T is here in the United States. Our company operates in six countries in Latin America and seven countries in Africa. We are number one in several Latin American countries, and we are in a city that has a huge Latino market. So I had to be in a space that required full concentration."
After a slew of unsuccessful afternoons working in several cafés, Gonzalez believed it time to find a permanent workspace where he could dedicate his time to meeting the needs of his clients. After a month of searching, Gonzalez found what he deemed the best office space in Chicago. "When I found Regus, I was relieved," said Gonzalez. "It had everything I needed; the Regus office has a professional setting, conference rooms, a mailbox, anything that you can think of to help grow your business, Regus has it."
Since 1989, Regus has developed an impressive portfolio of products and services designed to aid the entrepreneur looking to expand their business. With 33 locations here in Chicago, Regus Chicago Market Director and Vice President of Chicago Operations Scott Nelles shared that Regus is a non-stop shop for the mobile worker looking for a space conducive to success. "It's important to us to have a product that can relate to many different types of businesses," said Nelles. "We have a really nice, I think, presentation for entrepreneurs and business start-ups, they come in, like Mr. Gonzalez, and rent a desk or a full suite. Or maybe they just need a legitimate address. We have a lot of different products that allow people to have a business presence with a considerable backbone of office support without having to lay out a lot of capital for it."
As the world's largest provider of flexible workspace, Regus meets the needs of large corporate and small businesses alike, by offering office space, virtual offices, where a voicemail and mailbox are provided, as well as meeting facilities, and businesses lounges to name a few. Rates differ on the type of service an entrepreneur is looking for, but special offers are provided regularly. "It's so exciting to see a business grow and expand. I get really excited when a business has outgrown us. It makes me happy to see a startup business outgrow us because it means that we did our job in helping them get to the next level."
Anyone looking for a workspace that supplies an array of services to help relieve the stress of start-ups, should inquire about Regus, Gonzalez stated. "You don't have to worry about anything. This is one of the best offices I have seen here, by far." If you would like to learn more about Regus, visit www.regus.com. Or call, 1-800-633-4237.