By: Ashmar Mandou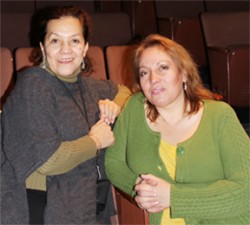 Twenty-five years ago, Rosario Vargas saw a need for more Spanish-language plays in Chicago. "I thought to myself, I know there has to be more people out there, like me, who are Latinos whose first language isn't English," said Vargas. Hailing from Colombia, Vargas set out to recruit local writers, poets, actors, and even activists who had stories to tell, but weren't given the opportunity to tell them. Through hard work and out-of-pocket funds, Vargas founded Aguijón Theater Company of Chicago, the only Spanish-language theater production in the city at that time.
"Rosario Vargas is in an institution," said Claudia Perez-Brown, performing artist, producer, and longtime friend. "What many don't realize is that Vargas was one of the first women, the first Latina woman, to be a founder of a Spanish-language theater company. It is amazing to see what Vargas has done for the Latino community in the past twenty-five years and what she continues to do, in the context of creating a platform for Latinos to share their narrative and start a dialogue."
Aguijón Theater is an exciting place that explores cultural expression through discussion and performance while promoting diversity, said Vargas. Through various productions throughout the years, nothing brings more joy to Vargas than hosting their annual International Women's Day celebration every year. "For the past twenty-five years, we have always celebrated women's day in March," said Vargas. "It is so much fun working with different groups of women, with very interesting stories, each year and we always look forward to hearing their stories and taking lessons from it."
This year, Aguijón Theater will celebrate International Women's Day on March 8th, with a night of conversation among eight Chicago Latina women from different arenas. "What I love about this time of month is that it allows us to reflect on the achievements of women before us and women around us, today, who exemplify solidarity and hard work," said Perez. "We hope that young women can follow in the footsteps of women before them, such as Vargas, and be truly inspired to make impact their community while building solidarity." If you would like to attend International Women's Day celebration or would like to learn more about Aguijón Theater, visit www.aguijontheater.org.