By: Lyndsi Barboza
The Resurrection Project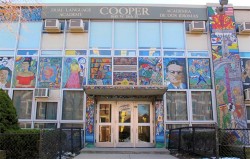 The Resurrection Project (TRP) is proud to announce the continuation and expansion of its education enrichment programming—Early-Childhood Education Transition (ECET)—into Pilsen's Cooper Elementary School. Launching with one classroom consisting of 20 students, ECET focuses on providing quality full-day early-childhood education for children and families most in need.
Academic performance across Pilsen's public elementary and middle schools show considerable variation. Mobility rates range from nine percent at Orozco Community Academy to 18.5 percent at Pickard Elementary. At most Pilsen schools, fewer than 60 percent of students meet or exceed reading levels in grades 3 and 5.
TRP's Early Childhood Education Transition programming is implemented in conjunction with the city of Chicago's Head-Start program, and in partnership with Chicago Commons, a local organization. TRP and Chicago Commons have a collective goal of improving the quality and quantity of early-childhood development programs in Pilsen by reducing waiting lists, increasing availability of full-day early-childhood programs by adding or expanding programs in underutilized local schools, and developing awareness campaigns to emphasize the benefits of quality early-childhood programming for students and their families.
This program will mark the only full-day, early-childhood learning enrichment program in Pilsen schools. By the beginning of the next academic year, TRP and partners plan to implement at least two full-day programs into one or more Pilsen schools. TRP's ECET program will follow Head-Start's program focus using Chicago Common's Reggio Approach to learning.
The Reggio Approach "is a complex, integrated approach [to learning that is] based on the relationships and interdependence of children, teachers, and parents." (Chicago Commons, Adaptations of the Reggio Emilia Approach) Derived with an end-goal of quality early-childhood education, Chicago Commons praises this learning technique for its embodiment of all areas of learning and development through reflective thinking, negotiation, decision-making, and problem solving. Parents, teachers, and community leaders—keep your eyes and ears open for Early-Childhood Education Enrichment programming coming to your child's school soon!
** Implementation of additional TRP education enrichment transition programs (both early-childhood and high school) in the Pilsen area is contingent upon funding and forthcoming over the next academic school year.