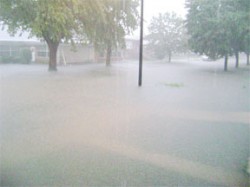 Cicero Town President Larry Dominick and members of the Cicero Town Board reached out to flood victims in Cicero and shared town resources to help neighboring communities harder hit by rainfall this week. Dominick said the Town did experience some flooding and power outages but was limited to a small portion of the Town. The power outages did not last long.
After servicing the needs of Cicero residents, Town employees from Public Works and Fire Commissioner Ron Opalecky coordinated emergency efforts with harder hit towns such as Forest View and Stickney where many neighborhoods were overwhelmed by heavy flooding. The problems began when heavy overnight rains on Thursday pushed the Des Plaines River to record water levels, destroying a water barrier. The flood waters then overflowed into Sanitary Canal.
The record flood waters not only affected large swaths of Forest View and Stickney but also threatened the ComEd substation. As such, Power had to be rerouted through other substations, causing intermittent power outages to some parts of Cicero and longer outages in flood stricken areas of Forest View and Stickney.
"Rainwater flooding is a major problem and we all have to be vigilant. We can do some things to minimize the problem by ensuring our sewers are not clogged, the sewer covers in the streets are cleared or debris not just before a heavy rain but during rainfall which pushes leaves and debris over the manhole covers," Dominick said.
"We also have programs to help homeowners by sharing the costs of installing water drainage systems that help prevent water backup into their homes." The bigger problem, however, is the need to have the Metropolitan Water Reclamation District and the County and the State provide relief by creating more reservoirs where increasing rainwaters can be diverted, Dominick said.
"The Deep Tunnel was already filled before the rain even got to be threatening. There was no place for the rain water to go," Dominick said. Cicero Assessor Emilio "Emo" Cundari said the Town is coordinating a drive to assess damage caused by flooding and power outages, as was done in the summer of 2010. Although Cicero has not experience the same levels of flood trauma as other communities, we can still participate and apply for a State Disaster designation and for federal aid through FEMA.
"We were lucky Cicero wasn't hit as bad as other communities. Flooding isn't a Cicero problem. It is a regional problem," Cundari said. "We can't control the weather or the rain. But we need a regional answer to flooding problems." Cundari said homeowners can obtain information on how to obtain and complete the forms for damage assessment by calling a special Hotline Number, 708-223-2514. They can also download the forms on the Town of Cicero Website www.TheTownofCicero.com, or from the Town's Facebook and Twitter accounts. All of the forms have to be returned to the Town of Cicero by Monday. Once the assessment is done, a determination of funding eligibility can be made by county, state and federal officials.