By: Ashmar Mandou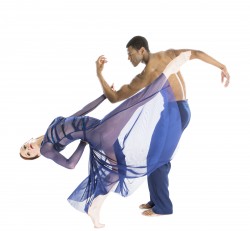 A tapestry of rich sound, syncopated improvisation, and wondrous melody will make up the world premiere of "Havana Blue," a musical excursion of deep rooted Afro-Cuban rhythms and cultural exchange and dance that promises to leave audiences breathless.
In collaboration between River North Dance Chicago Artistic Director Frank Chaves and Chicago Jazz Philharmonic Chamber Ensemble Founder and Artistic Director Orbert Davis, "Havana Blue" will offer up seven vignettes that will tell the multi-faceted story of Cuban culture that will surely evoke raw emotion. Chaves and Davis had the opportunity to spend nine days in Havana where they were both left inspired to bring their experiences and share them with Chicago audiences.
Recently, Chaves spoke about how he was left inspired to return to his "homeland," and how he hopes Havana Blue will motivate Chicago audiences to explore deeper into the rich history of sound and culture of Cuba.
Returning Home
I was born in Cuba and left when I was six months old. This was my first time going back. So, this was pretty much a trip of a lifetime, for me and it really affected me greatly on many, many different levels. First and foremost, arriving there and feeling, as cliché as this may sound, like I returned home. Growing up, I heard about the Cuba that once was from stories told to me by my parents and family…they told me about the nightclubs and how it was the place to be back in its heyday. So, I certainly had this idea in my head of what Cuba used to be and, of course, of what Cuba is, today. There was nothing like actually setting foot in Havana and seeing how it was such a state of disrepair and how fallen apart everything seemed to be, but the one thing that I know affected me the most was, which I know was the same for many people on our trip, was that on the outside things looked terrible, and are terrible, but that the richness and passion and culture were really untouched. That things could be in such a state of disrepair, yet the art can still be so unbelievably rich. There was such a contrast there and that was my biggest takeaway.
Afro-Cuban Sound
Well, I think it's a really interesting combination of many different influences, honestly. First and foremost, the rhythm; the rhythms are what is always changing…the sound is something that I have always been in tuned with, without even realizing it. As a choreographer the more I did, the more I created, the older I became…I realized I was always building the Cuban rhythm, always finding the syncopations and everything. And that is one hundred percent the rhythms of Cuba and the Afro-Cuban rhythm…they are so involved. There is always such beautiful melody on top of rhythms and built into that is a lot of improvisation. It's really kind of in the blood.
Havana Blue
Well, we did not want to recreate the Cuban music, we did not want to recreate Cuban dances, we wanted to inspire. So for Havana Blue, my greatest hope is that people will, at least, catch and understand and get a taste of the essence and spirit of Cuba.
Tickets for Havana Blue are currently on sale for Saturday, April 13 at 9p.m., at the Auditorium Theatre, located at 50 E. Congress Pkwy. To purchase tickets, visit www.auditoriumtheatre.org/musicandmovement or call 800-982-2787.