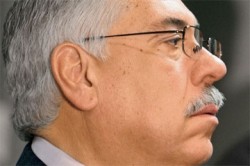 Property tax relief legislation developed by Cook County Assessor Joseph Berrios was signed into law by Governor Pat Quinn at a ceremony early this week on Chicago's southwest side. Senate Bill 1894 is designed to soften the blow caused by the sunset of the seven percent Expanded Homeowner Exemption, which was originally designed to provide relief from rising home values before the economic downturn.
Speaking at the signing ceremony, Assessor Berrios said, "Today we celebrate a clear victory for homeowners. Although homeowners will continue to automatically receive the benefits of the standard Homeowner Exemption when the seven percent provision expires, they will see increases in their bills when it is gone. This legislation will offset this loss by increasing the savings currently received from the Homeowner and Senior Exemptions."
The seven percent measure was originally implemented and phased in by triennial district starting with the City of Chicago. It will expire on second-installment tax bills City of Chicago homeowners will receive this summer. North suburban homeowners will lose all seven percent savings on second-installment tax bills in 2014 and south suburban homeowners will lose all savings on second-installment bills in 2015.