Courtesy of Everest College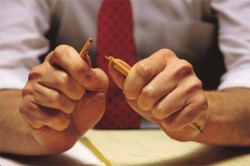 The U.S. unemployment rate may be falling, but stress levels continue to rise among workers as more than eight in ten employed Americans said they are stressed out on the job amid heavier workloads and low pay, according to data released Tuesday in the 2013 Work Stress Survey conducted by Harris Interactive on behalf of Everest College.
The telephone survey of 1,019 employed adults found that 83 percent of Americans are stressed by at least one thing at work, a sharp increase of ten percentage points when compared with 2012 (73 percent). The survey was conducted to coincide with April's Stress Awareness Month, when health care professionals across the country join forces to increase public awareness about the causes and cures for the modern stress epidemic.
For the third consecutive year, paltry paychecks were a top stressor with 14 percent of adults ranking low wages as the most stressful aspect of work. Low pay shared the top spot with unreasonable workload, jumping to 14 percent from nine percent in 2012. Annoying coworkers and commuting tied at 11 percent, followed by working in a job that is not a chosen career, eight percent, poor work-life balance, seven percent, lack of opportunity for advancement, six percent, and fear of being fired or laid off, four percent.
Gender Wage Gap Plays Role in Stress Levels
The wage gap between men and women and how it relates to stress is evident in the survey results. Women are more likely to say that low pay is the most stressful aspect of their job, nearly twice the rate of men, 18 percent to ten percent. Men, meanwhile, listed unreasonable workload as the top stressor, 14 percent, followed by annoying coworkers, 12 percent.
By the Numbers: 2013 Work Stress Survey Fast Facts
While 83 percent of Americans said at least one thing is stressful about their jobs, 17 percent said nothing stresses them out about their jobs.
American workers 65 and older are more likely than any other age group to say there is nothing about their job that stresses them out, 38 percent.
Everest Collge's 2013 Work Stress Survey was conducted by telephone within the United States by Harris Interactive between February 21st and March 3rd, 2013 among 1,019 employed U.S., adults ages 18+. For more information, visit www.everest.edu/disclosures. Or www.harrisinteracrive.com.