By: Daniel Nardini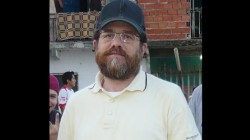 In an important turn-around, the famed actor Sean Penn has called for the country of Bolivia to be excluded from the Dakar sports racing meet if American citizen Jacob Ostreicher is not allowed to leave Bolivia. The normally pro-leftist Penn pretty much defends some of the shannigans of so many leftist regimes like Venezuela, Bolivia, Nicaragua and Cuba. But in this instance he may be having a change of heart because of what happened to Mr. Ostreicher.
And what happened to Mr. Ostreicher was truly criminal and anti-yankee prejudice at its most base. Jacob Ostreicher went to Bolivia with the best of intentions. He wanted to help the people of Bolivia by investing in a rice agricultural venture with some Bolivian business people. Then he was arrested by the Bolivian authorities for extortion. The Bolivian government claimed that Ostreicher had embezzled the money from the project he had invested in. Then the Bolivian newspapers began to unravel the truth about the whole case against Ostreicher—it seems that the people Ostreicher had partnered with were an extortion ring. This extortion ring had connections all the way into the Bolivian Ministry of the Interior. In fact, the lawyer for the Ministry of Interior's prosecution was in with the extortion ring.
Once the full scope of this extortion ring became known, 12 people were prosecuted for embezzlement and extortion. This included one provincial official from the Ministry of the Interior. The only innocent person in the whole case was Jacob Ostreicher. Even though he was and has always been innocent of embezzlement (as he has always maintained from beginning to end), he remained in a Bolivian jail. His case is still pending before a Bolivian court even though there is NO evidence against him. There is no question that he has been the victim of corruption and anti-yankee sentiment. Enter Sean Penn. Penn was able to get Ostreicher released from prison and kept under house arrest. Ideally Ostreicher should be allowed to leave Bolivia and return to the United States to his heartbroken family. I hope this will still happen soon. If Sean Penn can put enough pressure on the Bolivian government and get Jacob Ostreicher released return to the United States, then Penn will have served not only Jacob Ostreicher and America but also justice.