By: Ashmar Mandou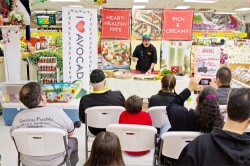 This past weekend, renowned Chef Aquiles Chávez visited the Carnicerias Jimenez in Wheeling to help families avoid the summer weight-gain by sharing some of his important health tips and recipes. Recent studies have shown children gain weight twice or three times as quickly during summer holidays, than throughout the entire academic year, especially if they're already overweight. As a solution to this growing epidemic, Chef Aquiles, in front of a crowd of hundreds, put on recipe demos for the whole family to enjoy. Prior to the demonstration, Chef Aquiles spoke to Lawndale Bilingual Newspaper and shared some of his favorite recipes for the summer.
Lawndale Bilingual News: Thank you for taking some time out to answer a few of our questions. Can you talk to me about what brings you to Wheeling?
Chef Aquiles Chávez: I was in Wheeling for a healthy cooking demonstration at the Wheeling Carnicerias Jimenez store. I wanted to show the community some healthy recipes and healthy living tips to help avoid weight gain and obesity, heading into the summer months. I showcased my avocado fruit salad with lemonade dressing and my avocado and shrimp Russian salad.
LN: I was surprised to learn that children tend to gain twice as much weight during the summer than they do throughout the academic school year. How can parents combat this issue? What can busy parents do differently to help the whole family maintain a healthy lifestyle this summer?
Chef A: Parents can make schedules for their children—weight gain happens when children avoid the heat during the oppressive summer months by watching television and lying on the couch. Schedules will help to keep children busy and active. Parents should also encourage their children to do outdoor activities and buy fresh, native ingredients to prepare at home. I always say that there are no bad ingredients, only bad habits.
LN: What are some of your favorite summer recipes you would like to share with our readers?
Chef A: I would like to share my avocado fruit salad, which combines fresh lemon juice, honey, chile piquin, fresh pineapple cubes, fresh papaya cubes, fresh quartered strawberries, jicama cubes, jalapeño, seeded and finely chopped, mint, and Mexican avocado. It is fresh, delicious and simple to prepare.
I would also like to share my avocado and shrimp potato salad, which includes 1 avocado from Mexico, ½ cup chopped cilantro, ¼ cup mayonnaise, 2 teaspoons lemon juice, ½ teaspoon salt, 2cups cubed carrots, 2 cups cubed peeled potatoes, 1 pound shrimp, cooked and peeled, ½ cup peas, and 3 hardboiled eggs, chopped.
In a blender, combine avocado, cilantro, mayonnaise, lemon juice and salt; puree until smooth; remove to a bowl. Boil or steam carrots and potatoes until tender; rinse with cold water, drain and add to bowl. Add shrimp, peas and eggs; mix until combined. Refrigerate 1 hour. Serve with saltine crackers and pickled chiles, if desired.
These are both healthy and delicious recipes that can help children avoid weight gain during the summer months. The avocado and shrimp potato salad, for example, uses avocado as a substitute for much of the fat present in mayo-heavy potato salads. Avocados are rich in heart-healthy "good" fats which still make the salad creamy and delicious, but much healthier.
LN: I really like your philosophy on living a healthy lifestyle. You say, 'there is no bad food, just bad choices.' I think it is really important that families don't deprive themselves, but be more conscious about what they consume. What should families keep in mind to help them make the right choices for their family?
Chef A: Families need to get "back to the basics"—they need to return to eating lunch and dinner at home and consuming healthy, fresh ingredients. Fast food is not the devil—once a month is ok, but in excess is bad. It becomes a problem when children eat it day after day. Cooking/ eating at home is healthier, because it enables us to buy and use fresh ingredients. We don't use deep-fried techniques like they typically do in fast food restaurants.
LN: Since we are entering the summer season, what fruits and veggies should families consume more of?
Chef A: I would recommend fruits with high percentages of water, like watermelon, melon, and pineapple, since people tend to be dehydrated during the oppressive summer months. The avocado is another fruit that I recommend. It is full of more than 20 vitamins and minerals and contains heart healthy fats. It can be consumed for breakfast, lunch, and dinner and is a wonderful alternative to the fat and dairy present in a variety of dishes—Mexican avocados are available year round and are the richest and creamiest.
LN: Do you have a message you would like to share with our readers that will help inspire them live a well-balanced lifestyle?
Chef A: I would like to tell them that there are not bad foods, only bad habits. It is ok to eat fast food in moderation, but it is extremely important to use fresh and health ingredients and to cook at home.