By: Daniel Nardini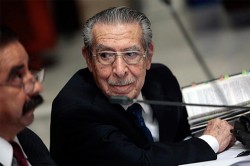 So much for justice in Guatemala. Former Guatemalan President Efrain Rios Montt, the man accused of the slaughter of thousands of Guatemalans (mostly Guatemalan Mayans), is again free after only a matter of days in jail. After so many months, a Guatemalan court found Montt guilty of genocide and crimes against humanity and sentenced him to be imprisoned for 80 years. It was hailed as a victory for Guatemalan justice and at removing the stain of Guatemala's nightmare of dictatorship. I say was………Guatemala's Supreme Court reversed the lower court's ruling and freed Montt. After all of the evidence and eyewitnesses having been finally able to give testimony against Montt, the whole court proceedings were thrown out on a "technicality." It says only too clearly that Montt and many of the other military generals guilty of crimes against humanity still have "friends" in high places. With Montt being 86 years old, it is unlikely that he will be tried again.
I can only imagine how the survivors and witnesses to the crimes Montt had committed must feel. They had waited for 30 years for this blood-thirsty murderer to finally be delivered to justice only to have it stolen. These people had fought so hard in the names of all those they loved who were butchered by this man only to see him yet walk free again. Why has the justice system set free a person with a record as bloody and heinous as that of Efrain Rios Montt? Because many officers, politicians and former government officials fear they might be tried next. None of them want to face trial for crimes against humanity or genocide, and so they have chosen to sabotage the will of the Guatemalan people to bring Montt to justice. This is just as true for the justices—some of them were running the court system when Montt committed his dasteredly crimes and they said nothing.
Whether Montt can ever be tried again, and can ever be found legally guilty in Guatemala now looks very elusive. Worse, this could plunge the country back into civil war and chaos. If those entrenched in the system want to avoid at all costs any attempts at justice and reconciliation, then revolution may be the only answer. And if that happens, everyone loses.