Por: Grassroots Collaborative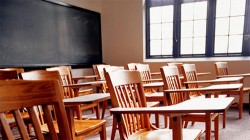 En vísperas del voto de la Junta de Educación de cerrar 54 escuelas, padres y líderes comunitarios se reunieron con ejecutivos del Bank of America para discutir la renegociación de acuerdos sostenidos entre las Escuelas Públicas de Chicago (CPS) y Bank of America.
La Junta de Educación alega que el cierre de las escuelas es necesario para atender un déficit de presupuesto. De acuerdo al último reporte anual certificado de CPS, CPS paga aproximadamente $36 millones en intereses a bancos como el Bank of America y Goldman Sachs todos los años.
Los padres describieron a los Vicepresidentes de Bank of America la desorganización y la violencia que causará el cierre de un número sin precedente de escuelas, que afectaría a 50,000 niños. "Esto agregado al problema de pandillas, arrojando a nuestros niños a la línea de fuego a diferentes escuelas", dijo Annie Stovall, una madre de Garrett Morgan Elementary.
Durante la reunión con los padres y líderes comunitarios, la Vicepresidenta de Bank of America, Patricia Holden dijo, "CPS podría renegociar, pero no se ha acercado anosotros…. Esto es entre dos partes y una de las partes no está en la mesa".
Hasta la fecha, CPS ha pagado más de $120 millones en diez diferentes acalorados acuerdos.
Estos acuerdos están drenando los tan necesitados fondos de las escuelas.
Amisha Patel, directora ejecutiva de Grassroots Collaborative, asistió también a la junta de hoy. "El Alcalde y la Junta de Educación deberían hacer todo lo posible para encontrar el dinero para mantener abiertas estas escuelas. Cada año, $36 millones va a los bancos como el Bank of America y Goldman Sachs, en vez de ir a nuestros salones de clase. Bank of America dijo hoy que están abiertos para una conversación. ¿No valen nuestros hijos lo suficiente para que la Junta de Educación tome el teléfono e inicie las pláticas?"
Grupos comunitarios y del trabajo están siendo organizados por Grassroots Collaborative, coalición que forzó al Alcalde Daley a utilizar su primer y único veto en la Ordenanza de la Caja Grande, que pedía salarios más altos para los trabajadores empleados en tiendas como Wal-Mart y Target. En el presupuesto del 2012 de Chicago, la coalición abogó por la Ordenanza del Presupuesto Responsable que pide que el superávit de los fondos TIF sean regresados a organismos fiscales para atender los déficits presupuestarios. Eventualmente $60 millones en fondos TIF fueron regresados a los contribuyentes.