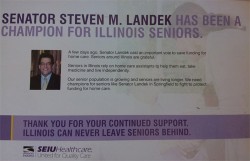 The Services Employees International Union which represents more than 2.1 million union workers in healthcare, property and public service recently endorsed State Senator Steven Landek for his support of Illinois' senior citizen community.
Landek, according to the SEIU, cast a vote to save funding earmarked for home care services for senior citizens in the State of Illinois during a recent meeting of the Illinois Senate in Springfield. The SEIU wrote, "Seniors in Illinois rely on home care assistants to help them eat, take medicine and live independent. Our Senior population is growing and Seniors are living longer. We need champions for Seniors like State Senator Steven Landek in Springfield to fight to protect funding for home care."
Landek said he is grateful to the SEIU union for recognizing his commitment to senior citizens, and he stressed that the needs of seniors have always been a foundation of his many years in public service. "Senior citizens are among the most active residents in our community. They show a heightened concern for the issues that face our communities and remain actively involved in advocating for community improvements," Landek said.
Landek was elected to the Illinois Senate in Nov. 2012 representing the 12th Senate District. He also serves as the Mayor of Bridgeview, Illinois.