Courtesy of Hispanically Speaking News
Edited by Lawndale Bilingual Newspaper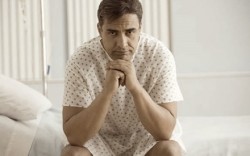 The number of testicular cancer cases continues to climb slowly but steadily in the United States, according to new research.
While the cancer is still most common among white males, the greatest increase is among Hispanic men, according to Dr. Scott Eggener, an associate professor of surgery at the University of Chicago.
Eggener tracked the statistics on testicular cancer from 1992 through 2009, looking at data from a nationwide epidemiology database. "The incidence of testicular cancer appears to be increasing very slowly but steadily among virtually all groups that we studied," he said. "The novel finding is that the most dramatic increase is in Hispanic men."
The U.S. National Institute of Diabetes and Digestive and Kidney Diseases supported the study.
This year, the American Cancer Society expects 7,920 new cases of testicular cancer in the United States. About 370 men are expected to die of it. "It still remains an uncommon cancer," said Dr. Len Lichtenfeld, deputy chief medical officer of the American Cancer Society. He reviewed the new findings. "It's important that we become aware of the situation [of rising numbers of cases], but not become alarmed by it." Hispanic men, he noted, still have a lower rate of the cancer than do white men.
In his study, Eggener found that the incidence of testicular cancer rose from 1992 through 2009. In 1992, for instance, 5.7 of every 100,000 men had testicular cancer. By 2009, that number had risen to 6.8 men for every 100,000. Hispanic men had the largest annual percentage increase. In 1992, four of every 100,000 Hispanic men were affected. By 2009, it was 6.3 men of every 100,000, the investigators found. For men affected, the outlook is generally good, experts agreed. "It has the highest survival rate of any solid tumor," Eggener said. The overall five-year survival rate, he noted, is 95 percent or higher.
Symptoms can include a painless lump on a testicle, an enlarged testicle or an achy feeling in the lower belly. Few risk factors have been identified. According to the cancer society, testicular exam should be part of a routine exam by a health care provider, Lichtenfeld said.