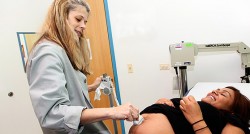 Esperanza Health Centers announced that it has received a $2,500 general operating grant from MB Financial Charitable Foundation, which will be used to cover the cost of reduced cost healthcare visits for low-income residents of the medically underserved neighborhoods of Chicago's southwest side.
Esperanza Health Centers is a Federally Qualified Health Center located in Chicago's Little Village and Chicago Lawn neighborhoods that will serve 21,000 low-income individuals during 2013. Esperanza addresses the physical and mental healthcare needs of uninsured and low-income women, children, and men in underserved neighborhoods through a range of services including primary care, OB/GYN and Midwifery, allergy/immunology, mental health counseling, and health education.
At Esperanza, uninsured patients pay a reduced fee according to their income level. Over 80 percent of Esperanza's uninsured patients earn less than 100 percent of the Federal Poverty Level and pay a $30 all-inclusive medical visit fee which covers labs and procedures. During Fiscal Year 2013 Esperanza will provide over 9,100 healthcare and mental health encounters for the uninsured.