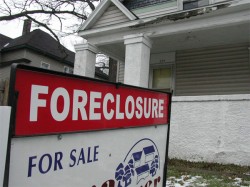 El Reporte de Embargos del 2012 de Lawyers' Committee for Better Housing's (LCBH) La Inestabilidad en la Vivienda Continúa para los Inquilinos: Chicago Responde con la Adopción de Nueva Protección al Inquilino, encontró que los índices de embargos en edificios multifamiliares continuaba persistentemente alto en el 2012 y continúa teniendo un impacto considerable y perjudicial, desplazando familias, desestabilizando comunidades y provocando la rápida pérdida de rentas económicas en la ciudad.
LCBH ha estado recopilando datos de embargos desde el 2009 y encontró que en el 2012 la Ciudad de Chicago experimentó el descenso más lento en embargos, año con año, desde el comienzo de la crisis de embargos. No solo se ha recuperado lentamente la crisis de embargos en la ciudad, sino que las declaraciones de embargo realmente aumentaron en Austin, Englewood y otros barrios que ya sufren algunos de los peores efectos de la crisis de embargos.
Los grandes bancos continúan desempeñando un importante papel en los embargos y desalojos, con Wells Fargo, Bank of America, JP Morgan Chase, US Bank and Deutsche Bank responsables de más de la mitad de las declaraciones de embargo del 2012. La evidencia indica que los desalojos relacionados con los embargos declarados por los bancos suman por lo menos el 11.4 por ciento de la declaración total de desalojos de Chicago, con 1,928 casos de desalojo registrados por los bancos en solo los últimos seis meses del 2012.
LCBH encontró que uno de los mayores costos de la crisis de los embargos es la continua inestabilidad de los inquilinos. Un estudio hecho por un inquilino de LCBH descubrió que los inquilinos desplazados por los embargos luchan por encontrar nuevas casas, con el 50 por ciento forzados a encontrar vivienda temporal. Una vez que los inquilinos han encontrado casa muchos enfrentan aumentos en la renta, y aproximadamente la mitad de los inquilinos paga una renta más alta por su nueva casa. Para más del 30 por ciento de estos inquilinos, el aumento fue de más de $200 al mes. Los hijos de los inquilinos desplazados sufren también las consecuencias educativas. De las familias encuestadas con hijos, más de la mitad se vio forzada a cambiar escuela para ellos.
LCBH intenta que el reporte de embargos del 2012 sirva como evaluación para futuras proyecciones y recomendaciones. El reporte completo de LCBH lo puede encontrar en la red de LCBH www.lcbh.org.