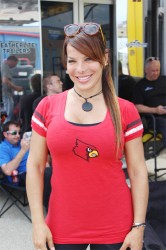 Fuel strategy played a role in Milka Duno's finish in the ARCA Racing Series presented by Menards Ansell ActivArmr® 150 at Chicagoland Speedway and in the closing laps of the 100-lap race Duno was 12th – but ultimately finished 15th when she ran out of fuel on the last lap.
With all three of the race's caution periods coming in the early laps of the race Duno's pit stop under caution on lap 25 for fuel and tires was to be her last load of fuel for the remainder of the race – 75 laps. It was either that – or pit under green late in the race and lose valuable track position. It was a competitive gamble – but a decision made for all the right reasons. Normally, 75-lap green-flag runs to the finish are not all that common in the ARCA Series and several teams, including Duno's Venturini Motorsports team, believed that there would either be another caution period, or that with the third caution coming when it did a run to the finish without a fuel stop could be made – albeit with little or no fuel left to spare.
"It was a tough race on a tough track," said Duno. "We came in during the caution for tires and fuel and adjustments were made to the car that were on the mark. We picked up speed and we were able to get up to 12th. If we would have come in for fuel under green we would definitely have lost positions so we took a calculated, competitive gamble and ultimately we were so very close – "last-lap" close actually!"
Duno's 15th-place finish at Chicagoland Speedway is her ninth top-15 finish and seventh consecutive top-15 finish in the 11 races held so far this season. Next up for Duno and her Venturini Motorsports team will be the Barbera's Autoland 150 presented by Driven Racing Oil at New Jersey Motorsports Park July 28. Fans cans also logon to her official Facebook page at www.facebook.com/TheOfficialMilkaDunoFanPage.