By: Ashmar Mandou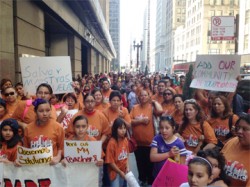 Nearly 300 parents and students rallied outside Chicago Board of Education David J. Vitale's office at Urban Partnership Bank and the Chicago Public Schools headquarters to speak about the potential $8 million in budget cuts to schools in the Brighton Park community
"I was all registered for a Geometry class this summer at Kelly, and then I found out that program wasn't going to happen because of budget cuts. I thought I would be able to get ahead this summer," said Juan Estrada, a sophomore from Kelly High School. "We can't let these budget cuts continue to happen."
The protest included testimony from concerned parents and students of James Shields elementary, John C. Burroughs Elementary, and Thomas Kelly High School. Budget cuts to the upcoming academic school year could pose devastating consequences for families in the Brighton Park area. According to the organization, Kelly High School is slated to lose over $4 million, David Elementary more than $1 million, Burroughs over $500k and Shields Elementary over $370k. Overall, Brighton Park's neighborhood schools will lose over $7.5 million in funding, 40 teaching positions, two dozen non-teaching positions, supplies, and resources for extra curricular activities.
"Mayor Emanuel says that he supports our schools and our kids and wants to cut violence, but what does he think will happen when he cuts $7.5 million from our school budgets," said Anita Caballero, BPNC board president. "The schools will be worse off and kids won't have any support. More will be on the street and turn to gangs. How does that make us better off?"
BPNC held another meeting Wednesday evening inside the auditorium of Shield Elementary School where parents had the opportunity to express their concern to elected officials and demand funding be restored to keep resources intact. "While these cuts are taking place and teachers are being let go, charter school companies UNO and Concepts will be receiving taxpayer dollars to construct new schools in the Brighton Park area," said Caballero. "That's just not fair." Raise Your Hand and the Chicago Teachers Union also participated in the rally.