By: Ashmar Mandou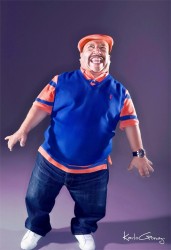 As the lovable sidekick on E!'s Chelsea Lately, Chuy Bravo, also known as "little nugget," knows a thing or two on how to bring the laughs. "I owe a lot to Chelsea and how she's opened so many doors for me," said Chuy Bravo, born Jesus Melgoza in Tangancicuaro, Michoacan Mexico. With his comedic skills honed, Chuy is ready to take it to the next level. This week, Chuy, along with three talented Latino comedians, will be in Chicago for a comedy tour, called Chuy Bravo's Mustache and Comedy Fiesta presented by the Laugh Factory. Chuy phoned the Lawndale Bilingual Newspaper to talk about the tour, his love for Chelsea Handler, and what people can expect from the show.
Lawndale News: We are excited to have you in Chicago. Tell me a little bit about this all-star Latino comedy tour. How did it get started?
Chuy Bravo: We, as Latinos, go through difficult times to get somewhere. There are a lot of barriers we have to cross and it's hard for us to come up. And I thought now would be a great opportunity to help my people. The show [Chelsea Lately] has opened so many doors for me and I now want to open the doors to help my people, my Latinos. The show started from an idea I had traveling with the guys from Chelsea Lately. I figured if I could travel with them across the country, I can have Latino comedians travel with me, too. So, I talked to my manager who agreed. We talked to the Laugh Factory owner here in Hollywood and he liked the idea. One thing led to the other and here we are.
LN: What can people expect from the show?
CB: A lot of laughs! [Laughs]
LN: What's your role?
CB: I will pretty much be hosting and doing silly things that people love, like hiding underneath girls' skirts…
LN: I'll be sure to wear pants…
CB: [Laughs] I'll be sure to bring you on stage…
LN: [Laughs] You have made history by becoming the first Latino sidekick on a late-night television show. How did the show, 'Chelsea Lately' cross your path?
CB: I feel so blessed and grateful to Chelsea for giving me the opportunity. I know that I'm doing something good when young people approach me to shake my hand and tell me how proud they are of me. If it wasn't for them, or if it wasn't for Chelsea, I wouldn't be here. Years ago, I was working on a project with a friend, who told me about the show and how casting directors were looking for a little person to play alongside Chelsea. At the time, I didn't know who she was, but I decided to go on the casting, anyway. When we first met, we hit it off right away. We fell in love with each other and we have been working together every since.
LN: What have been some of your fondest memories of the show?
CB: For one of Chelsea's birthdays, she took us to Cabo and she paid for everything. She took us to one of the most beautiful places in Cabo and I thought, 'oh, my God.' I looked through my window and saw a beautiful view of the hotel, the pool, everything. After we sang to her, I got up on one of the chairs and I said, 'Chelsea, thank you for giving me the opportunity to be here. Being Mexican, born in Mexico, I never thought we had places like this in my own country.' And she loved it, she almost cried when I said that. And it's true. My second favorite memory is when I met Gloria Estefan. She is the most amazing person ever. She's an angel. Everything about her is to care for people, to help people, to give back.
LN: Speaking of giving back. You have a foundation called, The Little Nugget Foundation in Mexico. What compelled you to start a foundation?
CB: I'm a recovering addict. There was a point in my life when I was almost homeless due to my addiction to alcohol and drugs, which started when I young. I hung out with the wrong crowd. After a while, I got help from a rehab center. The people there stuck by me and helped me through everything. Because of them I got my life back. So I wanted to return the favor and help others to get over their addiction. I just think when you are given the opportunity to change your life around, or when you are given the opportunity to help others, you should do it. The people at the rehab center gave me the opportunity to start my life over. Chelsea gave me the opportunity to be successful. I now owe my community and I want to give them the same opportunities.
To catch Chuy Bravo's Mustache and Comedy Fiesta at the Laugh Factory, visit www.laughfactory.com. Or call, 773-327-3175. Shows run July 11th and July 12th.