By: Ashmar Mandou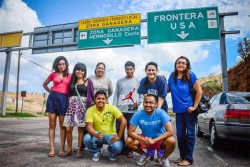 Several courageous and determined Dreamers crossed the border into Mexico and are currently planning to reenter the United States with other deported people.
Lulu Martinez, Chicago resident; Lizbeth Mateo, Los Angeles resident; and Marco Saavedra, New York resident, are taking a stand against the individuals who faced deportation in the last years and demanding changes occur in the current immigration laws. "We are angry, we are frustrated, and we are tired," said Martinez in a statement. "But more than anything, we also have relearned to love our dignity, our humanity, and ourselves. We have had to relearn what it is to be free. We have learned to drive without licenses, work without permits, cross borders and oceans, and overstay visas for survival. We have had to learn radical self-love and love for our communities, our rich cultures, our poetic languages, and the many facets of our identities."
On Monday, parents of undocumented students and advocates gathered at the Federal Plaza around noon to protest the Obama administration for the thousands of families affected by deportations. "Sometimes in life you have to stop what you are doing because there is a small engine failure and needs your labor, so we stop our goals, our dreams, but we never stop time, we fight in order to move on," said Martinez's mother Maria Martinez.
The students' decision to cross the border into Mexico was made to raise awareness of the 1.7 million people who have been deported under President Barack Obama. The move also proves to be a fickle one as they intend to test Obama's current immigration policy.
Mateo, one of the three who crossed, wrote a blog piece published by The Huffington Post on Monday, where she explained why she made the trip to Mexico. "If immigration reform passes, we cannot leave out the millions of people whose families have been separated by deportation. They deserve to be home, and if we win, they may come home soon. They deserve not to be forgotten. They deserve a pathway home, and Congress should create it right away." Mateo has been living in California for the past 15 years before deciding to go back to Mexico.
This action calling on the Obama administration to allow Dreamers to return to the U.S. comes at a time when the House is debating how to reform the nation's immigration system and address the 11 million undocumented immigrants currently living in the U.S.
In a Facebook post on Monday, Gutierrez expressed his support for the Dreamers who are attempting to come back to the U.S. "I have heard about the Dreamers who attempted to return home to the United States today after deportation, including my constituent Lulu Martinez from Chicago. I hope the Obama administration will do the right thing and let them back in. To make us whole in immigration reform, I believe that people deported without a criminal record should be able to apply to return in the U.S."