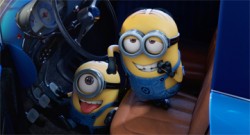 For some parents, summer vacation actually means a lot of extra work spent on planning eight weeks' worth of entertainment for their kids. During the summer, parents are not only looking for ways to keep their kids busy, but also looking for safe family activities that will keep their minds and bodies engaged. Following are five suggestions to suit the many scenarios that parents are faced with every summer.
When your kids get the call of the wild… Take them to one of our wonderful National Parks. There are easy ways to find a National Park that provides unique outdoor learning experiences beyond the textbook. The whole family will enjoy seeing a variety of endangered wildlife to even discovering fascinating historical projects through the National Park Service American Latino Heritage projects, where visitors can explore how the legacy of American Latinos can be recognized, preserved, and interpreted for future generations.
Ernest Hemingway said "There is no friend as loyal as a book"…So when kids ask to hang out with friends, introduce them to these, available FREE at the local library. Lucky for parents, there is usually a public library nearby and during the summer months public libraries have fun reading programs and activities for all ages, including special readings by theme (e.g. films and science fiction), and even "read to me club for toddlers and kindergarteners."
When they scream: "I'm bored"… show them the value of giving one's time to help others. Volunteering is a great way to instill in youngster a sense of self-worth and civic pride, which is essential to personal growth and future success. Volunteerism should be a part of every young person's summer curriculum and there are many programs and resources where they can pay it forward and make a difference for many.
Did someone hear a Minion say "Oh Banana…ehh? hee heee!"…No? Then it's time to hit the theaters and check out the #1 movie in the world this summer! Universal Pictures' animated hit Despicable Me 2, which features the loveable yellow Minion creatures in a new adventure. For movie clips and more visit facebook.com/UniversalLatino.
And, if you prefer to keep your entertainment at home or on the go… then check out Comcast's Xfinity TV Summer of Kids. The company has created a great way for parents and children alike to easily access the best kids and family-friendly content like Dora the Explorer, Angry Birds, Sofia the First, Phineas and Ferb, Ben 10, Mickey Mouse Clubhouse, Sid the Science Kid, Caillou, Finding Nemo, The Muppets y mucho más. Summer of Kids programming can be enjoyed on any device, anywhere you are – even when the family is on their way to grandmas.