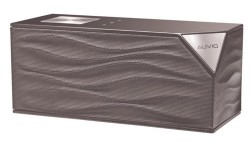 Do you find yourself wishing you had music, an outlet for a phone charger, or protection for your phone while you're enjoying the great outdoors? RadioShack makes it easy to improve your next camping trip with a few tech necessities. Don't forget to pack these items that will make your camping adventure a better experience:
AUVIO Bluetooth® Portable Speaker – Enjoy your music without being tied down by headphones or killing your car battery with the AUVIO Bluetooth Portable Speaker. It's got a built-in rechargeable battery and plays up to 6 hours on a single charge. RadioShack offers two versions of this speaker; take a look at this video to decide which one is right for you.
Enercell 3000mAh Portable Power Bank – When you're roughing it in the woods and there's no access to power, you can rely on the Enercell 3000mAh Portable Power Bank to keep you talking for up to 10 hours.
ZAGG® invisibleSHIELD™ – The easiest way to put a damper on your camping trip is ruining your phone. Prevent scratches with the ZAGG® invisibleSHIELD™, which applies directly to your phone, providing the toughest, most durable protection you will find. Available for multiple devices.