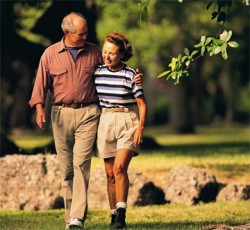 Have you heard of National Prevention Week? It's an initiative that the U.S. government's Substance Abuse and Mental Health Services Administration (SAMHSA) hosts every May to encourage people to take a greater role in their well-being. Even though National Prevention Week 2013 is over, it's important not to forget that substance abuse and mental health issues such as underage drinking and depression affect Hispanic communities, and they may be more common than you think. Consider the following statistics:
Almost half of Hispanics aged 12 or older currently consume alcohol.
More than one in 10 Hispanics aged 50 or older currently suffer from depression.
More than 25 percent of Hispanics between the ages of 18 and 25 have smoked cigarettes in the last month.
Here are five ways you can take a greater role in preventing substance abuse and promoting mental health in your community:
Get the conversation going: Whether it's talking to your children about the consequences of youth substance abuse or listening to a friend talk about their struggle with depression, starting a conversation about these issues can turn words into actions.
Be a positive role model: Well-being starts with you and your loved ones. Showing them that you are ready to lead by example by quitting smoking or consuming less alcohol can inspire a sibling, friend, or coworker to do the same. Parents in particular are important role models for young people. For example, youth who believe their parents would strongly disapprove of their using alcohol and drugs are less likely to use substances compared to other youth.
Learn the signs: Depression, suicide, and substance abuse have many signs that you can learn and recognize. Once you know what to look for, offer support and help people find treatment using SAMHSA's Behavioral Health Treatment Services Locator, available at www.findtreatment.samhsa.gov.
Volunteer: Set aside time this weekend to find an organization in your community that promotes well-being and find out how you can get involved. Neighborhood associations, faith-based organizations, and even schools are great places to offer your time to promote prevention. For more ideas on how to get started, download SAMHSA's Toolkit to see what you and your community can do.
Go digital: Share prevention information with your family and friends on Facebook and Twitter. Spread the word about upcoming prevention events with wall posts and tweets to create awareness online.