By: Blanca Flores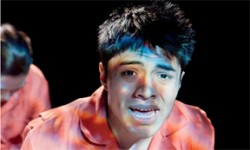 Whether you want to have some fun in the sun this weekend or attend an indoor event, we have a few festivals, theater productions, a health and fitness expo and an art exhibit you might want to check out.
Check out Luis Alfaro's take on Euripedes' Medea story set in Chicago's Pilsen neighborhood contemplating the current immigration hardship, with Medea being an immigrant.
Mojada
Now Running until August 11
Zacek McVay Theater at the Victory Gardens Biograph Theater
2433 N. Lincoln
For show times visit www.victorygardens.org
Join Jose Gamaliel Gonzalez, a pioneer of Chicago/Mexican arts and Arts Activist as he exhibits his biggest art show and celebrates his 80th birthday!
Jose Gamaliel Gonzalez
Carlos & Dominguez Gallery
July 19, 2013 at 6:30PM
1538 W. Cullerton St.
Rock & Roll Chicago Health & Fitness Expo and Marathon
At the McCormick Place Convention Center July 19-20
The newest running gear, fitness apparel, and health and nutrition information and interactive displays. There will be a marathon after the two-day health and fitness expo.
Friday 12-6PM
Saturday 9-5PM
Latin Jazz Festival
July 19 & 20
Humboldt Park Boathouse
1359 N. Sacramento
For more information and the schedule of events visit www.jazzinchicago.org
Join the North-side's family festival this weekend. Water slides, train rides, face painting, games, and costumed characters will keep the children happy. There will also be food, music, and local vendors.
BenFest
July 19-21
Friday 4-11PM
Saturday 1-11PM
Sunday 1-7PM
Leavitt St. and Irving Park Rd.
Celebrate Clark Street
July 20 & 21s
Saturday 1-11PM
Sunday 1-10PM
Clark Street and Morse Ave.
Activities for children include carnival games, art projects and face painting.
Culturally diverse music and food will also be part of this celebration.
The Albany Park Theater Project invites you to see Home/Land. Watch how immigrant families struggle to stay together and make a better life in a land they have learned to call home.
Home/Land
July 18-28 at the Goodman Theatre 170 N. Dearborn Street
For show times visit www.goodmantheatre.org.