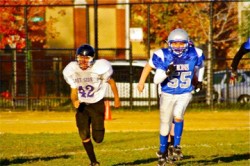 Practices are now being held for the Canaryville Lions Youth Football Team at 5:30 P.M. on each weekday in August at McInerney play lot located at 45th and Halsted. The Lions are full equipment, full contact Youth Football Team organized within the Chicagoland Youth Football League.
There are 3 teams, a Varsity team for 7th & 8th grade players, a Widget team for 5th and 6th grade players and a Pee Wee team for 3rd and 4th grade players. All games are played in Chicago. The Pee Wee, Widget and Varsity teams are still accepting registration of players. There is a Cheerleading squad for the same age groups.
It doesn't matter where you live or what school your player attends, if your young player is ready to play football please contact Adam at 312-961-1806 for more information about football and Myra at 773-443-6747 for Cheer.