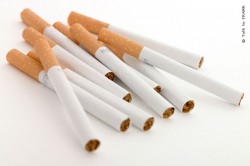 As part of his overall campaign to curb youth smoking, Mayor Rahm Emanuel went after the tobacco industry to curb marketing practices that target youth. This call for action comes on the heels of a cease and desist and several notices of violation issued by the City of Chicago Department of Business Affairs and Consumer Protection (BACP) against tobacco giant R.J. Reynolds for the alleged distribution of tobacco coupons without a license.  The City and Board of Health will investigate these practices further and consider additional actions the City can take to combat them through a series of Town Hall meetings that will take place is September.
BACP issued a notice of violation to R.J. Reynolds for the alleged distribution of discount coupons for menthol tobacco products without the appropriate license.  The coupons allowed for the purchase of tobacco products for one dollar, an up to 90 percent discount from their retail price, and were distributed at a Lakeview bar on August 11th 2013.  At its August public meeting, the Board will consider a resolution to hold four Town Hall meetings to solicit input from the public as it considers additional policy options for reducing youth smoking.  The town hall meetings will be held from 6:30-8:00 p.m. on:
·         September 5 (Chicago State University, 9501 S. King Drive, Chicago, IL 60628)
·         September 10 (General Robert E. Wood Boys & Girls Club, 2950 W. 25th St., Chicago, IL 60623)
·         September 17 (Center on Halsted, 3656 N. Halsted St., Chicago, IL 60613)
·         September 19 (Austin Town Hall Park, 5610 W. Lake St., Chicago, IL 60644)
In a letter to the Board on July 25, Mayor Emanuel highlighted the particular dangers menthol-flavored cigarettes pose to young people.  Specifically, among African American youth ages 12-17 who smoke, 72 percent use menthol-flavored cigarettes.  The numbers are nearly as high for LGBT and Asian American youth (71 percent for both groups) who smoke.  In addition, nearly 50 percent of Latino youth who smoke use menthol-flavored cigarettes.