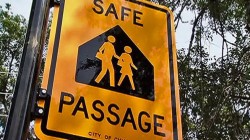 Chicago Public Schools (CPS) Chief Executive Officer (CEO) Barbara Byrd-Bennett and Chicago Police Department (CPD) Superintendent Garry McCarthy announced the release of Welcoming Schools Safe Passage routes made available to the public at cps.edu/safepassage. Welcoming School Safe Passage routes were developed in coordination with the Chicago Police Department (CPD) as well as parent, principal and community input.
CPS will also mail a copy of each school-specific Safe Passage route to corresponding Welcoming School families, as a part of a comprehensive back-to-school packet. Vendor-executed training of Safe Passage personnel will commence next week. Workers will be positioned along routes starting the first day of the 2013-14 school year, Monday, August 26. In addition to the release of Safe Passage routes, CPS and City departments involved in the district-wide effort to provide a safe and smooth transition for students attending Welcoming Schools next fall continued their weekly briefings and reported on their progress to date.
Mayor Rahm Emanuel has called on all City departments and agencies to work in tandem with CPS to support the city's children, families and communities as students transition to Welcoming Schools this fall.