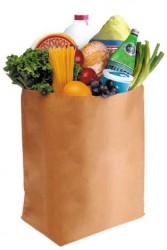 On Tuesday, Mayor Rahm Emanuel released vital information and data on food deserts, including lists of grocery stores, interactive maps of these stores locations, and raw data that outlines the existing food deserts in Chicago. The data also includes a comprehensive list of nearby Cook County independent grocery stores and chains, and a map of urban farms. The information will help the public understand the ongoing efforts to combat food deserts in the City of Chicago, provide a reference for convenient grocery store locations, and bring awareness of the food desert initiative to all Chicago communities. This data will also help determine areas to extend an even greater focus and opportunities for new potential partnerships with grocery stores.
Bringing grocery stores to neighborhoods with the highest level of need remains a priority for the City of Chicago. Since the launch of the City's efforts to reduce the number of food deserts in June 2011, the number of low-income Chicagoans living in these areas has declined by 21 percent, falling from 100,159 Chicagoans to 79,434.  The City of Chicago broadly defines "food desert" residents as all Chicagoans living in a census block located more than a mile from a retail food establishment licensee with a business location larger than 10,000 square feet, and also has developed other useful measures of food access. For example, a total of 122,998 Chicagoans earning below and above the average median income live more than a mile from a large grocery store; that's down from 157,605 in 2011.
Through Seed Chicago, five Chicago businesses and community organizations have raised $55,000 for projects aimed at alleviating food insecurity and creating market opportunities related to food.  These projects include the Rogers Park Business Alliance's GROW-Food business incubator, Growing Home's Englewood Urban Farm, the Garfield Park Community Council's Fresh Food Market, Albany Park's Global Gardens refugee training project and YoLo's Food & Snacks Mobile Kitchen in the Austin neighborhood. Mayor Emanuel has announced a goal of completely eliminating food deserts for Chicagoans by 2020.