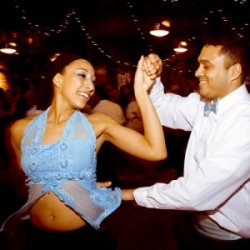 Hay muchas cosas este fin de semana de Labor Day en Chicago. Puede visitar uno de los zoológicos de Chicago, ver un juego y aprender como arreglar flores. También hay una feria de arte de reclicaje y la exhibición del Museo Infantil Ready, Pet, Go! Si no quiere salir fuera revise los eventos a continuación.
A Raisin in the Sun
Compañía de Teatro TimeLine
615 W. Wellington Ave.
De ahora al 17 de noviembre
Se presenta un drama de Lorraine Hansberry sobre una familia afroamericana que vive en el sector sur de Chicago! Vea la suerte que corren en su nuevo vecindario. El show dura aproximadamente 2 horas y 45 minutos con un intermedio.
Para las fechas y horario del show visite www.timelinetheatre.com
Salsa en el Zoológico
Lincoln Park Zoo
Viernes, 29 de agosto del 2013-08-28 de 6 a 9 p.m.
Aprenda varios pasos de baile con un instructor de 'salsa'. Después pruebe su nueva habilidad y baile con una banda en vivo en la cafetería de la azotea del zoo. Comida y refrescos a la venta.
Taller de Venta de Flores en el Camino
Jardín Botánico de Chicago
De ahora al 30 de agosto del 2013 de 9:30 a.m. a 11:30 a.m. & 1-3 p.m. en Burnstein Hall
Unase a los voluntarios del Jardín Botánico de Chicago en su arreglo de flores. Hay un taller hasta el 30 de agosto para aprender a hacer estos arreglos. Todo lo que se recaude de los arreglos de flores será para beneficio del Jardín Botánico de Chicago.
Música en el Zoológico
Brookfield Zoo
Sábado, 31 de agosto del 2013. Visite el zoológico esta semana y vea las actuaciones de diferentes músicos de Old Town School Of Folk. Habrá tres diferentes actuaciones a las 10 a.m. a las 11:30 a.m. y a las 2 p.m.
Remix Chicago
Logan Square (en la Ave. Milwaukee entre Fullerton y California)
Agosto 31 & Septiembre 1º, 2013
De 10 a 12 p.m.
Conocido anteriormente como Ravenswood Remix, Remix Chicago es una feria de arte reciclado que permite a la gente aprender a reusar y reciclar las cosas en forma diferente. Habrá varios talleres, bandas tocando música india y vendedores de comida.
Ready, Pet, Go!
Chicago Children's Museum
700 E. Grand Ave.
De Ahora al 20 de octubre
10 a.m. diariamente
Aunque no va a encontrar ahí ninguna mascota, el museo infantil de Chicago tiene una exhibición que permite a los padres aprender los beneficios de tener una mascota, mientras los niños se disfrazan. Habrá estructuras de mascotas gigantes y diferentes trajes de animales que los niños pueden usar. Una de estas estructuras es el gallinero, un gallinero urbano. Para más información visite www.chicagochildrensmuseum.org.