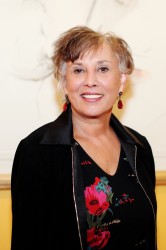 Leadership development has been a lifetime commitment for Juana Bordas, author and president of Mestiza Leadership International. This commitment has led her on a journey of empowering people to be leaders. Bordas, a 2008 MillerCoors Líder, recently published, The Power of Latino Leadership, which examines Latino demographics; community characteristics and trends; and insights for leveraging innate traits common in the Latino community to shape the next generation of Hispanic leaders.  In a recent podcast, she shared three of these common innate characteristics, which Latinos can harness to become effective leaders:
1.     Latinos are natural negotiators. By 2050, one in three people of the U.S. population will be Hispanic. U.S. Latinos are a diverse group of people made up of different racial and ethnic backgrounds, nationalities and generations. Latinos are also more likely to live in a multi-generational household. This wealth of diversity gives Latinos an advantage. It enables Hispanics to embrace differences and seek out common ground between diverse groups – a critical skill for any leader. 
 2.     Hispanics are people centered. Leaders can unite the Hispanic community around common values: hard work, generosity and sharing, and treating everyone with respect. The Latino value system and shared agenda of putting people first unifies the community. A leader is one among equals. Latino leaders are community stewards who understand the humanistic and personal side of people.
 3.     Latinos are community driven. The Hispanic community is composed of many leaders in every corner of the country. Every day, hundreds of leaders are working at the community level to bring about change and help develop new leaders. Latino leaders are helping others become leaders through their strong commitment to their community. In order to successfully empower a community, it must be done by empowering the critical masses in that community.  To listen to the podcast and learn more about leadership development, visit www.MillerCoorsLideres.com.