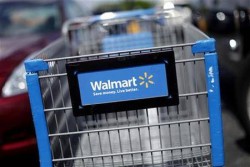 Representatives of the state's unions held a press conference at Cicero Town Hall Thursday to salute President Larry Dominick and the Town Board for requiring that Walmart use union labor to build their new Supercenter.
Dominick and Walmart broke ground on the construction of a 190,000 square foot Supercenter on the eastern half of the former Sportsman's Park at 33rd and Cicero Avenue. The new Walmart will create 400 new jobs.  Union leaders said they expect more than 200 union workers will be employed at the Cicero Walmart construction site, which is expected to be completed in the Spring of 2014.
Dominick noted that the Walmart company recently celebrated the achievement of its sister company Sam's Club in Cicero, which this past year was recognized as the number 1 Sam's Club in the entire company in terms of service and revenue generation.
Union officials who attended the press conference were: Ed Maher, representing James Sweeney of the International Union of Operating Engineers Local 150; Tom Villanova, president of the Chicago and Cook County Buildings Trades Council; Jim Allen of the Bricklayers District Council; Rocco Terranova of the Sheet Metal Workers Local 73; Joseph Pijanowski of the Machinists Local 126; and,Tom Ryan of the Chicago Regional Council of Carpenters. They were joined by 25 other union officials and members to salute Dominick and the Town of Cicero.