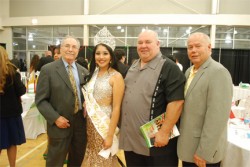 For Lupita Diaz-Donato, Cicero's Mexican Independence celebrations started off on the right foot. The 20-year-old DePaul student was crowned Señorita Cicero during the Cicero Mexican Cultural Committee's annual pageant on September 5 at the Cicero Community Center, the first of several events to celebrate Mexican Independence Day.
Diaz-Donato competed against seven other young women throughout the night in a series of presentations including displaying traditional Mexican costumes from the country's history, talent and a series of questions and answers, among others. She displayed her talent of the violin and won off of her ability to answer the questions in perfect English and Spanish, said event organizer Frank Aguilar. Included among the judges was Alamia Schwerdtman, chair of the Miss Illinois Scholarship Association.
Town President Larry Dominick praised the Cicero Mexican Cultural Committee for holding the event, calling it an event the Town is proud to host every year.
As Señorita Cicero, Diaz-Donato won a $1,000 scholarship to aid in her studies in pre-medicine, a pearl necklace provided by Jared's, and a fur coat from Christos Fur Salon. She will also preside as Queen of the Mexican Independence Day Parade on Sunday, September 15.
Mexican Independence Day celebrations continue on September 13 with the three-day festival at the corner of 34th and Laramie. The Mexican Independence Day parade kicks off at noon on the 15th at Cermak and Austin and runs to 50th and Cermak. The El Grito ceremony begins at 7:30pm on September 15 at 34th and Laramie.