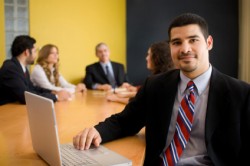 Courtesy of Eighteenth Street Development Corporation, ESDC
On the heels of the United States Hispanic Chamber of Commerce's National Convention, during which more than 6,000 Hispanic business leaders and owners from throughout the country convened in Chicago for the largest gathering of Hispanic business leaders in America, it is evident the Hispanic community is a vital part of Chicago's economy, which continues to grow each day.
Chicago is home to nearly 25,000 Hispanic-owned businesses, each of which contributes to local economies. In fact, Mayor Emanuel has deemed 26th Street in Little Village a second Magnificent Mile, generating more sales tax revenue for the city than any other place outside of the Magnificent Mile. Nationwide, Hispanic-owned business have nearly doubled over the last decade, growing at more than twice the average national business rate.
As members of Chicago's Hispanic business community, we're proud to see the growth and strength of Hispanic-owned businesses in the Windy City. Many businesses chose to open their doors in Chicago because of the opportunity Chicago offers as one of the world's largest and most diversified economies. Chicago's business and government community have a history of working side-by-side to address challenges the city faces and we look forward to continued collaboration as the Hispanic community's role as key player in Chicago's economy expands