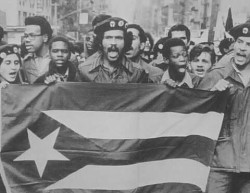 El Reverendo Bruce W. Johnson, Jr., y Eugenia (Ransier) Johnson, dedicaron su vida a servir a la gente de Chicago. Nacidos en Aurora, Illinois en 1938, Bruce Johnson asistió al Seminario Garrett, de 1960 a 1962. Fue durante esa época cuando conoció a Eugenia Ransier, quien también era estudiante del seminario. Se casaron en 1962 y dos años más tarde comenzaron a servir a la congregación de Humboldt Park, comunidad con rápido crecimiento en membresía latina.
En 1968, los Johnsons, junto con su tres hijos se pasaron a Armitage Avenue Church en Lincoln Park. En unos cuantos meses esta iglesia se convirtió en The Peoples Church y en oficinas nacionales de Young Lords Civil y el Movimiento del Derechos Humanos fundado por José Jiménez. Juntos establecieron una guardería gratuita, una clínica de salud gratuita, un programa de desayunos gratuitos para niños e hicieron demostraciones de protesta contra el desplazamiento de cientos de latinos y familias de bajos ingresos del barrio. Antes de un año los Johnson fueron encontrados por sus hijos, brutalmente asesinados. Sus asesinatos no han sido esclarecidos.
Comprometidos profundamente con las comunidades a quienes servían, los Johnson trabajaron incansablemente a nombre de las familias latinas que establecieron primero sus hogares en Lincoln Park y que estaban siendo forzados a dejar sus casas a causa de una renovación urbana. Eugenia era conocida también por su apoyo a los niños con necesidades especiales. En honor de su legado, The Young Lords, la Oficina Kutsche de Historia Local y la Universidad Estatal Grand Valley llevarán a cabo un memorial el 23 de septiembre a las 5 p.m., en United Methodist para celebrar la vida y obra del Rev. Bruce y Eugenia Johnson. El cupo es limitado. Llame al 616-331-8099 o visite www.gvsu.edu/kutsche para hacer su reservación.