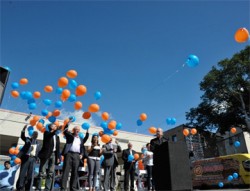 Almost a year after the failed Second Federal Loans and Savings was going to be auctioned off by the FDIC to potential predators and speculators, the partnership that rescued the bank held a community celebration alongside more than 100 residents last Saturday, Sept. 21st. Governor Pat Quinn, Illinois State Attorney General Lisa Madigan, Cook County Commissioner Jesus Garcia, Alderman Ricardo Muñoz, and representatives from Self-Help Federal Credit Union, the National Credit Union Administration, and Wintrust Financial joined The Resurrection Project (TRP) to announce the rebirth of Second Federal as a credit union.
"Today we're celebrating the resurrection of an institution that has a proud legacy of serving immigrant communities for more than 100 years," said Raul Raymundo, CEO of TRP and emcee for the event.
When Second Federal Savings and Loan failed in 2012, the FDIC planned to auction the bank's assets, including $161 million in deposits and 1,100 mortgage notes with a face value of $141 million. TRP and Self-Help Federal Credit Union, fearing that the auction of 1,100 mortgage notes would have exposed homeowners to increased foreclosure risks, forged a unique alliance to rescue the bank. The partnership worked with the FDIC to secure the $141 million in mortgage loans before working directly with Wintrust Financial, which had previously acquired the $161 million in deposits. Wintrust supported the rescue of Second Federal by agreeing to sell the assets back to the TRP/Self-Help partnership.
"We're celebrating what can be achieved when we work together," said Governor Quinn, who emphasized the ongoing importance of public and private partnerships working together to achieve new victories for the community.
Second Federal is also working to preserve the dreams of people who already have mortgages. As part of the partnership, TRP staff is working with Second Federal mortgage holders who are struggling with their payments. One family, Zenaida and Sixto Zarco, ran into difficulties when Sixto fell ill and had to stop working. They fell behind on their payments and were risking foreclosure. But by working with TRP and Second Federal, they received the assistance they needed to get back on track. They shared their story at the press event. At the conclusion of the press conference, the dignitaries and guests onstage released more than 100 balloons into the air to symbolize the rising of the community's dreams.