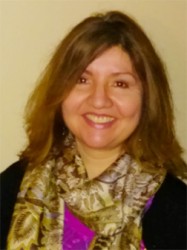 Roosevelt University business student Guadalupe Cotto was awarded the $3,000 Adelante MillerCoors National Scholarship and will be attending the Adelante Annual Leadership Institute Conference on October 19th through 21st in San Antonio, Texas.
A resident of Chicago's Garfield Ridge community, Cotto is the first Roosevelt University student to receive this prestigious award.  A non-profit organization for Hispanic college students, Adelante aids students with professional and leadership development skills.  "I want to thank Melissa Stutz, assistant dean of the Heller College of Business, for encouraging me to apply for the scholarship," said Cotto. "I am extremely grateful for caring mentors like her."
Cotto will attend the Annual Leadership Institute Conference titled "The Elements of Success," a three-day event that will include guest speakers and a series of networking luncheons that will give students an opportunity to meet with possible employers from such companies as Sherwin Williams, Southwest Airlines and Ford Motor Company.