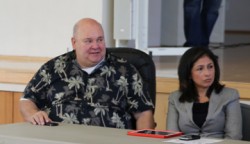 A workshop hosted by Cicero Town President Larry Dominick and State Representative Lisa Hernandez to help non-citizen residents apply for and obtain temporary drivers licenses through a new Illinois State Law attracted more than a thousand attendees Saturday.
The workshop featured information on how undocumented residents can apply for Temporary Drivers Licenses under the new State of Illinois Program that begins Dec. 1, 2013. Dominick and Hernandez, who co-sponsored by the bill in the Illinois General Assembly, said the temporary licenses will help improve safety and reduce insurance costs. Temporary Drivers License applicants must take drivers training courses and also purchase insurance before receiving the temporary licenses.
Hernandez co-sponsored legislation, SB 957, which was introduced by State Representative Ed Acevedo. The legislation creates the "Temporary Visitors Drivers Licenses" (TVDL) to qualified individuals in Illinois who do not have U.S. Citizenship but who have taken drivers education and have purchased drivers insurance. For more information, call Rep. Hernandez's office at 708-222-5240, visit her web site at www.StateRepHernandez.com or visit her office at 3948 W. 26th Street in Chicago.