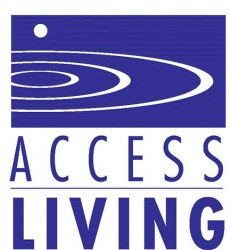 Moving on out…Has Illinois Lived up to the Promise of the ADA and Olmstead for People Moving out of Nursing Homes to the Community?
People with Disabilities Report on Home and Community Services and Share a Vision for the Future.
The Olmstead Decision mandating the right of people with disabilities to live in least restrictive settings occurred in 1999, yet moving out of a nursing home to the community and living life will in the community is still very difficult for many people with disabilities. Join Access Living for a presentation by people with disabilities who have lived in nursing homes on the issues involved in moving out to the community, supports that make this move possible, and their collective visions for what community-based services and supports could and should look like as Illinois moves forward on rebalancing money toward community living options.
Access Living is hosting a Town Hall Meeting-Moving on Out on December 3rd, from 2p.m., to 5p.m., at 115 W. Chicago Ave.