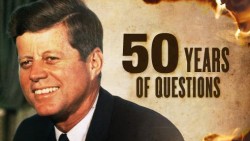 Mayor Rahm Emanuel joined Chicago Public Library Commissioner Brian Bannon, schoolchildren, and special guests at the Harold Washington Library Center to observe the 50th anniversary of the assassination of President John F. Kennedy. The event celebrated the life and legacy of President Kennedy, as well as his and the Kennedy family's long standing connection to Chicago.
"President Kennedy challenged all Americans to answer the call of public service, inspiring generations of Americans to serve others and work for the greater good of their fellow humans," said Mayor Rahm Emanuel. "Today, as we observe the fiftieth anniversary of his tragic death, we remember his life and legacy and the profound impact he had on our nation and our city."
As part of the program, author Ilene Cooper spoke about the Kennedys' decades-long ties to Chicago, beginning in 1945 when the Kennedy patriarch and President's father Joseph Sr. purchased the Merchandise Mart, which soon became a trade show mecca known across the country. From that time on, the Kennedy family has played a prominent role in Chicago. Several Kennedy family members have made the Chicago area their home and still play a major role in the operation of the Merchandise Mart. For more information, visit chicagopubliclibrary.org or call the Chicago Public Library at (312) 747-4050.