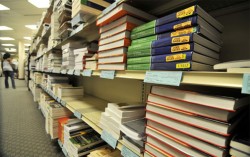 City Colleges of Chicago students will soon have significantly expanded access to a wide array of affordable textbook options, thanks to a new contract with Akademos approved by the institution's Board of Trustees.
Through the new contract with Akademos, for the first time, students will be able to order books through a 24/7 online bookstore and marketplace in their preferred format—eBook, new, used, or rental—and apply financial aid and/or vouchers to complete the purchase electronically. The new system will launch on April 4, 2014, the first day of registration for the summer term.
Students will be able to choose from more than 50,000 eBooks that will be offered at a 30-60 percent discount off publishers' list price for physical textbooks. Textbook rentals will cost an average of 50 percent less than the publisher's list price. Used books will be offered at 60-75 percent off publisher's list price.  Students will also be able to sell their textbooks through the marketplace to recoup some of their cost.
Through the new system, students will be able to ship books to their home or to a college bookstore for pickup. Bookstores will continue to sell school supplies and other retail items but will not sell textbooks. City Colleges faculty members will be able to search for the textbooks they wish to use in their classes through Akademos' textbook adoption tool.  There is no start-up or monthly costs to City Colleges for Akademos' services.