By: Eleanore Catolico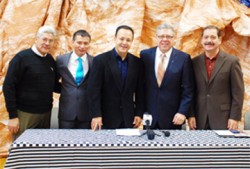 The Dia de Los Muertos Holiday inspired celebrations across the city, yet one of these stood out for both its mix of cultural and health consciousness.
Last Saturday, St. Pius youth center Casa Juan Diego hosted a Dia De Los Muertos celebration in collaboration with Casa Guanajuato and Pilsen Wellness Center. At this unique family-friendly event, Pilsen residents packed the youth center to enjoy traditional cultural programming.
Casa Juan Diego was filled with colorful La Catrina figurnes made of paper mache' and ofrendas honoring lost loved ones, decorated with flowers, fruit, colas and beer. The evening also included traditionzal Aztec folk dances, a Mariachi singing group, comical poetry readings for the dead, and a procession of girls dressed in full La Catrina costume.
Pilsen Wellness Center In-Person Counseling Coordinator Tomas Ramirez said that Dia de Los Muertos festivities continue to be part of a vital tradition of the people. "We celebrate the dead, but we also celebrate our life," Ramirez said. "It's part of the cultural identity of the nation."
Community members also had the opportunity to learn more about health insurance options sponsored by Get Covered Illinois, a government-run healthcare marketplace. Under the Affordable Care Act, all U.S. citizens must be enrolled in health insurance coverage either through family, employers or the extension of Medicaid for adults.
For Salvador Cerna, regional outreach coordinator for Get Covered Illinois, it was important to collaborate with local organizations such as Pilsen Wellness Center. "For the first time in history, those who do not have health insurance can get covered," Cerna said. Casa Juan Diego's Dia de los Muertos celebration continues to honor the holiday's customs and rituals, but now also heightens the people's awareness of social issues.