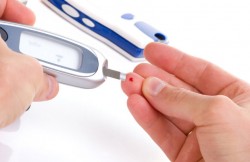 The percentage of Illinois adults diagnosed with diabetes rose 60 percent between 1995 and 2010, and it is projected the number of diagnosed diabetes cases will rise another 25 percent by 2020. This month, American Diabetes Month, Illinois Department of Public Health is encouraging everyone to learn the risk factors for diabetes and how to reduce or eliminate them.
Diabetes is serious chronic disease caused when blood (glucose) sugar levels are above normal and a hormone called insulin is not able to help glucose get into the cells, causing sugar to build up in the blood. When this happens, it can cause failure, blindness, heart attacks, strokes, and amputations.
Major risk factors for developing diabetes include: obesity, overweight, physically inactive, unhealthy diet, tobacco use, family history, chronic conditions, age, and ethnicity.
Diabetes prevention lifestyle changes include:
watching your weight – set realistic, yet clinically meaningful weight loss goals
eating healthy – talk with a registered dietitian who specializes in diabetes
being active – 30 minutes of moderate intensity physical activity five days a week
controlling your blood pressure and cholesterol.- talk with a primary care physician
For more information about diabetes and to take a test to determine your risk for the disease, go to http://www.idph.state.il.us/diabetes/index.htm.