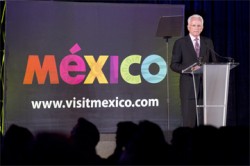 La Junta de Turismo de México presentó su nueva campaña norteamericana "Mexico, Live It to Believe It" ¨(México, Vívelo para Creerlo) en el Great Hall de Union Station de Chicago, la semana pasada.
"Mexico, Live It to Believe It" presenta las diversas culturas, ecosistemas, sabores, historias, innovaciones y destinos únicos de México. Con una inversión inicial de $36 millones, la campaña se amplía a una gran variedad de plataformas de medios de comunicaciones y canales con fuerte énfasis en los medios digitales.
La campaña presentará spots de televisión nacional debutando más tarde este mes en Vallarta-Nayarit y la Ciudad de México. Otros destinos como Yucatán, Los Cabos y Cancún Riviera Maya serán destacados también durante la primera fase de la campaña.
Más de 500 personas asistieron al evento, solo por invitación, incluyendo agentes de viajes, asociaciones de la industria, cadenas de hoteles, operadores de giras turísticas y funcionarios electos de la Ciudad de Chicago y el Estado de Illinois. Rodolfo López Negrete, CEO de la Junta de Turismo de México, fungió como orador principal de la velada.