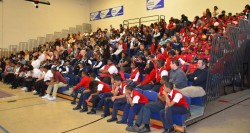 Plans by major pharmaceutical companies to gradually reduce their operations in Puerto Rico will cause heavy job losses in the island's northern region, an elected official said.
The mayor of the northern coastal town of Barceloneta, Wanda Soler, made the remarks Friday, referring to planned plant closures announced by multinational pharmaceutical firms.
Soler spoke to the local media after U.S. pharmaceutical giant Pfizer this week unveiled plans to scale back its operations at its manufacturing plant in Barceloneta.
Germany's Merck had announced a few days earlier that it would curtail its operations at two of its plants in Puerto Rico – including one in Barceloneta – as part of a restructuring plan.
Although the two companies did not give specific job-loss figures, Soler noted that many hundreds of people work in that industry in Barceloneta alone.
She said the jobs to be lost were well-paid, with salaries averaging $50,000 a year, adding that the layoffs would also affect many workers who commute to Barceloneta from other towns.
Pharmaceutical companies in Puerto Rico constitute more than half of the island's manufacturing activity and provide employment to 18,000 people. That industry has accounted for nearly 25 percent of the U.S. commonwealth's gross domestic product in recent decades, according to a report by the Estudios Tecnicos consulting firm.  Competition from countries with lower salary costs, the expiration of patents and a new tax on companies that have manufacturing operations in Puerto Rico but are headquartered elsewhere are among the motives for the scaling-down of operations, according to the report.
The drop in pharmaceutical activity comes at a time when Puerto Rico's unemployment rate stands at 14 percent.  It also follows an announcement that the White House is sending a team of advisers to help Gov. Alejandro Garcia Padilla's administration optimize the use of federal funds received by the island, which is mired in debt and has been in recession for the past seven years.