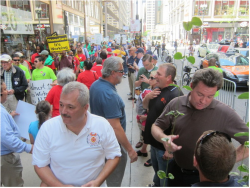 The Chicago Regional council of Carpenters (CRCC) business representative Jose Maldonado has been appointed to the Chicago Public Building Commission (PBC) by Mayor Rahm Emanuel. Maldonado was sworn in the PBC meeting last Tuesday. Maldonado, who has been a union carpenter for 12 years, brings experience in the business relations field as well as hands on experience in residential, commercial and industrial construction.
"I'm looking forward to lending my expertise to projects and initiatives I believe in," said Maldonado. "There are opportunities to help transform this city and I'm excited to be a part of that." A graduate of Chicago Public Schools, Maldonado received training from and worked his way through the ranks of the CRCC where he was elected financial secretary of Local 54 in 2010. Maldonado has been a delegate not only for the CRCC but also the Chicago Federation of Labor.
The CRCC is known throughout the country as being a leader in energy efficiency training and construction and has partnered with the City to meet higher sustainability and environmentally friendly standards. "Our local laborers are exceptionally well trained at the building techniques that will save the City on energy costs," said Maldonado.