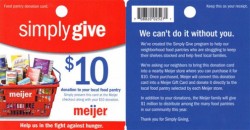 Meijer will double match every customer's $10 Simply Give donation made November 15th and 16th to celebrate five years of feeding hungry families through its program that aims to restock the shelves of food pantries in the communities it serves.
The Simply Give program began in November 2008 as a way to help local food pantries throughout the Midwest achieve their missions of feeding hungry families. Since then, the program has generated more than $6.5 millions, which equals 39 million meals for those partners to distribute to hungry families.
According to Feeding America, one in six Americans, or more than 50 million people, are considered food insecure, which means they don't know where their next meal will come from; in Illinois more than 1.9 million people are food insecure. For more information about the program or about Meijer, visit www.meijer.com.